Entry requirement to Hong Kong from the US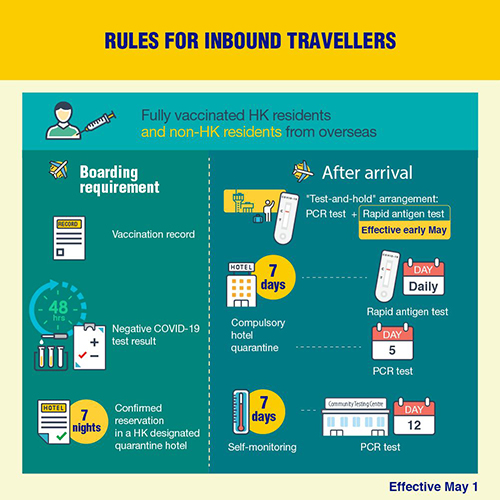 From May 1, 2022, fully-vaccinated non-Hong Kong residents will be allowed to enter Hong Kong from overseas. They will be subject to the same boarding, quarantine and testing rules as fully-vaccinated Hong Kong residents. They must hold a negative result of a polymerase chain reaction (PCR)-based nucleic acid test taken within 48 hours before their flight departure time and a confirmation of a room reservation at a designated quarantine hotel (DQH) for at least 7 nights.
Regarding the PCR-based negative test report, the travelers have to show documentary proof in English that the laboratory or healthcare institution is recognized/ approved/ ISO15189 accredited. Recognized laboratories in the US may be located via the database website of the Centers for Disease Control and Prevention or here. The print out of the relevant record can serve as documentary proof.
Upon arrival at Hong Kong International Airport, travelers are required to receive both a PCR-based nucleic acid test and a rapid antigen test (RAT). Arrivals with negative RAT results will be transferred by designated transport to DQHs to wait for their PCR nucleic acid test results. Upon testing negative on the PCR-based nucleic acid test, they will then be issued with a 14-day quarantine order and be subject to testing requirements. If the results on the day 5 PCR test and days 6 and 7 RATs are all negative, they may opt for an early discharge from the DQH, then undergo a 7-day self-monitoring. For more information about the entry and quarantine requirements for inbound travelers, please visit the dedicated website.